Keep it clean!: Easy to do drivetrain maintenance
Tuesday 25 September 2018, Filed in: Blog
Drivetrain maintenance is essential to getting the most from your ride
Dry, squeaky chains, chainring calf tattoos, poor shifting efficiency, easily worn out components... quite frankly you shouldn't have to put up with it.
Poorly maintained drivetrain will not only make your bike slower and noisy, but it'll also wear out your components faster. You don't need a professional workstand or a multitude of tools so there's no excuse for not spending 10 minutes at the end of a ride to avoid this and, if you're anything like me, you'll also find having sparkly clean kit immensely satisfying. Below we go over some easy to do steps for bicycle drivetrain maintenance. We'll also go over some frequent bike maintenance mistakes people make.
1. What you'll need
Firstly, and this is probably the most common mistake we come across, avoid so called "chain cleaning machines" at all costs. KMC, the world's largest (and best) bicycle chain manufacturer with over 40 years of experience, explicitly state:

"Do not dip your chain in (aggressive) degreasers - they remove the remaining grease from the chain's bearings, and may cause cracks. They are also bad for our environment... avoid a so-called 'chain washing machine' in combination with solvent. This will instantly ruin your chain."

What you actually should be using to clean your drivetrain is a non-aggressive & environmentally safe chain cleaner. We strongly recommend Fenwick's foaming chain cleaner. You'll also need a gear cleaning brush, cloth/rag & chain sponge.

In terms of lubrication, there are various different types available for different conditions. A dry lube is suitable for dry weather, whereas a wet lube is more suitable for - you guessed it - wet weather. What's the difference, you ask? Dry lube will run quietly and efficiently, but will wear off quickly in wet conditions; whereas a wet lube will fair better in wet conditions, but will typically pick up more dirt and not run quite as silently.

If you don't mind spending a few quid more for something with more performance in all conditions, we recommend Fenwick's Professional Chain Lube. If you are using this lube - ensure it is kept at room temperature (15-20 celsius) between uses to get the desirable consistency. If you keep it in the garage in winter, it'll get too cold and solidify.

Note another common mistake: GT85 and WD-40 are not lubricants. They are water displacers. They will not lubricate your chain. Honestly.
2. Cleaning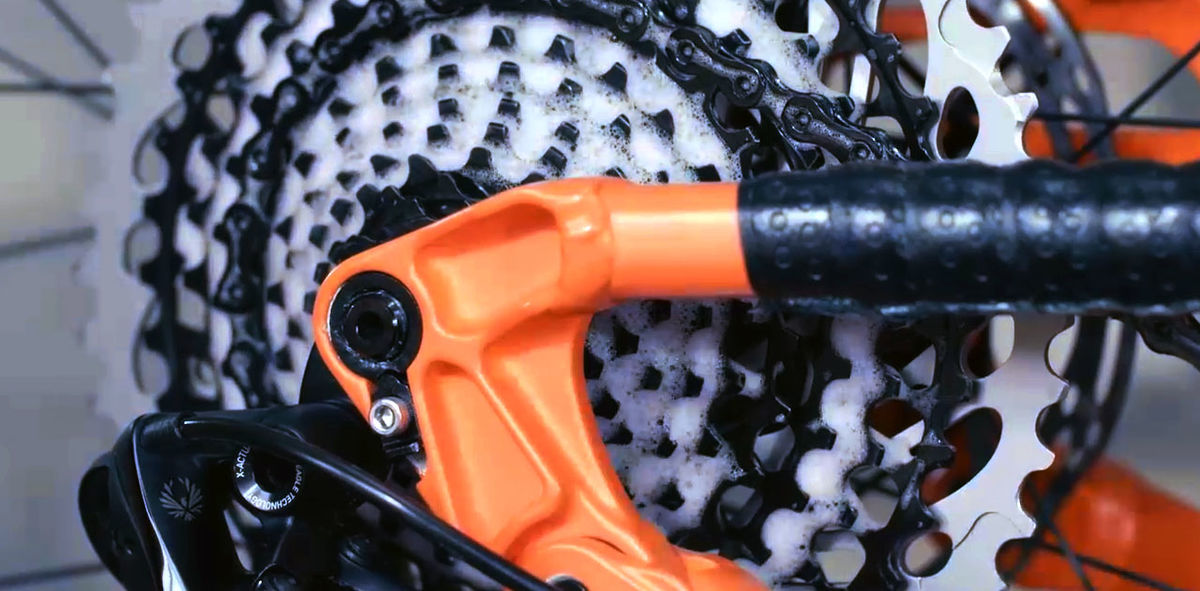 It's easier to do this if you have a workstand for your bike so you can bring the rear wheel off the ground, but if you don't you can just lean your bike up against a wall.
Change gear so that you are in one of the middle sprockets of the cassette at the back and the small, inner chainring at the front. This will drop your rear derailleur into a position where the jockey wheels are accessible for cleaning whilst also meaning you can turn the cranks backwards without having to worry about the chain slipping off the cassette.
Shake before use, then spray your foaming chain cleaner directly onto the chain whilst turning the cranks backwards. Continue turning the cranks in an anti-clockwise direction until you have covered the entire chain in the cleaner.
Now spray some of the cleaner directly onto your cassette, ensuring all sprockets are covered.
Wait for the foam to soak in for a couple of minutes. It will eventually turn into a liquid.
Get your chain cleaning sponge and hold it onto the chain. Again, rotate the cranks backwards so that the chain runs through the sponge until clean.
Now take your brush and clean the cassette, again whilst rotating the cranks so that the whole cassette is cleaned. Repeat this process with your brush on the jockey/pulley wheels and front chainrings.
Rinse your chain and cassette off with water. Use a clean rag/cloth to dry it all off. At this point you should also clean your brush and sponge in hot soapy water, so that they're good to use next time.
Before moving onto lubrication, it is essential that your chain is clean. Repeat the chain cleaning process if necessary. Applying lubrication to even a slightly dirty chain will multiply the muck & grime tenfold.
Note: If you want to got the extra mile and get a sparkling cassette, Finish Line's Gear Floss is absolutely brilliant for cleaning between sprockets and getting rid of all the grime. Likewise, a Spiro chain brush will help you get some of the tougher muck out of your chain.
3. Lubrication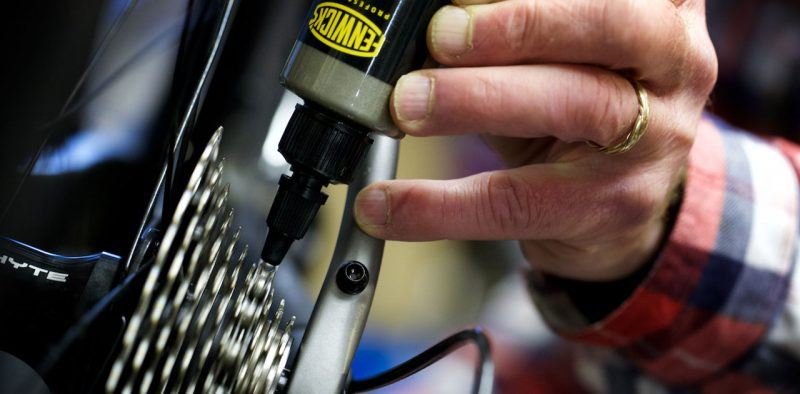 This is the easy bit. Once your chain is clean and dry, take your chosen chain lube and apply a drop to each roller of the chain. Again, it's easy to do this whilst turning the cranks anti-clockwise.
Once you've gone round the whole chain, continue to turn the cranks for another 20-30 seconds so that the lubrication can disperse into the chain.
Wipe any excess lube from the sides of the chain links with a rag and leave to dry for at least a few hours before riding again.
Et voila. 10 minutes at the end of a ride to ensure your components run better and last longer. All the necessary products are available in our high street store, so there's no excuse.
Tags: bike maintenance, maintenance,

Shop with confidence.