Please note: We are not able to ship kids' bikes at this time. This is due to unprecedented demand. They are available for click & collect only.
Balance Bike or Stabilisers?
Friday 25 May 2018 Filed in: Blog
Should you go for a balance bike or the more traditional stabilisers method? It's not even up for debate as far as we're concerned.
We get asked this question a lot in our kids' bike showroom. Stabilisers are perhaps how you and I learned how to ride bikes decades ago; but does that mean it's the best way to learn? 99% of the time we'd argue that it isn't. In this post we explain why...
What are balance bikes?
Balance bikes are bikes without cranks, pedals or drivetrain. They are typically available in 10", 12" and 14" wheel sizes. They are designed to help children learn how to balance and steer a bike before the transition to a bike with pedals. Children walk, run and, eventually, coast alongon two wheels, with the main intentions being to learn balance and have fun!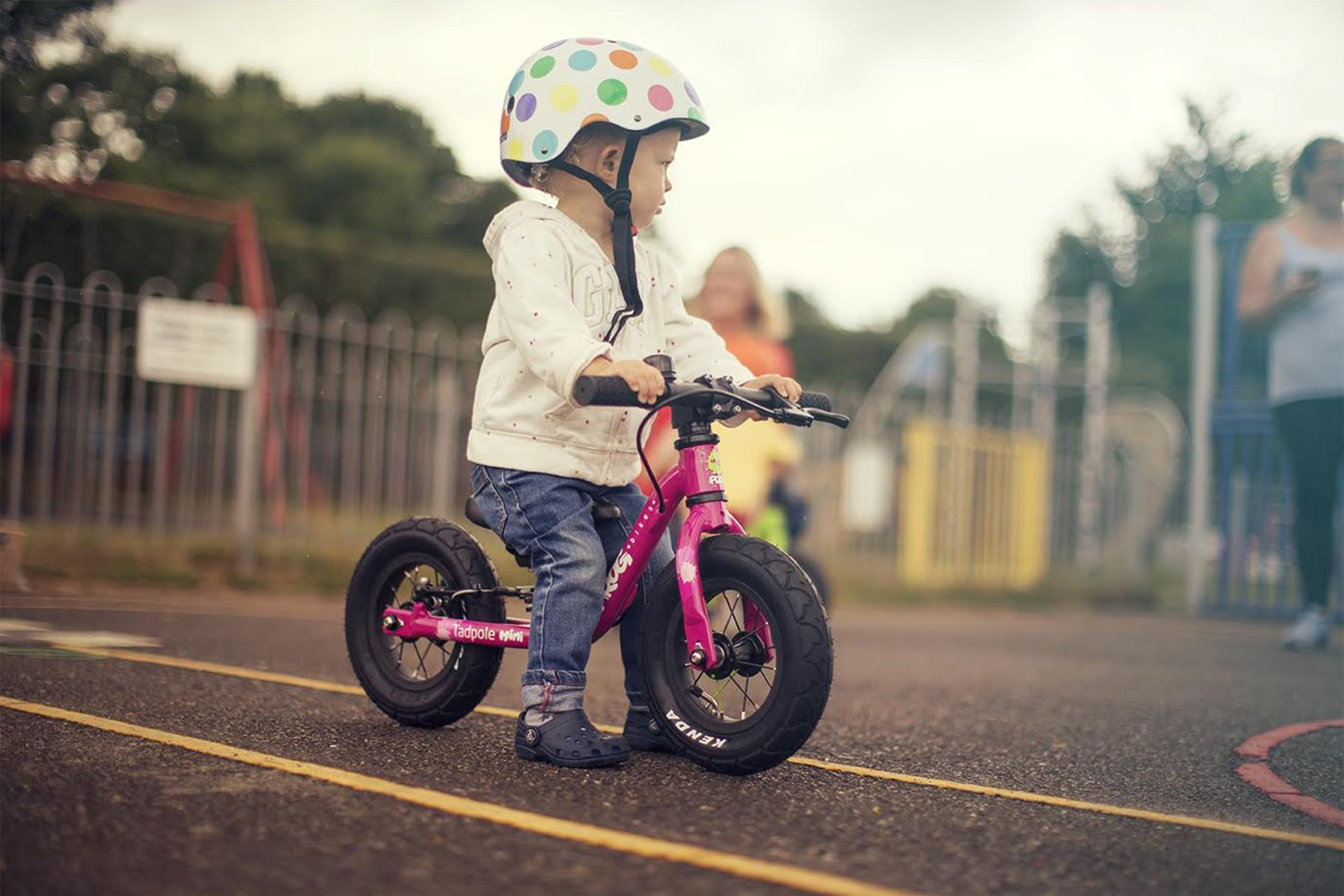 Learn early, learn right!
Balance bikes, such as the Frog Tadpole Mini pictured above, are available for children aged from 12 months.
A well designed, lightweight balance bike will enable children to find balance by themselves. Ideally they will be able to get both feet planted flat on the ground with a decent bend in their knee. This stability helps them to gain confidence. Once they gain confidence they will pick up more and more speed; eventually starting to lift their feet from the ground and coast along.
Once children have developed the confidence and balance on two wheels, it makes the transition to a pedal bike a heck of a lot easier. We have been importing balance bikes to the UK since the late 90s and, over the years, have seen the amazement of 1000s of parents as their children have come from their balance bike, jumped on a pedal bike and ridden straight off unassisted without the need for stabilisers.
So... definitely no stabilisers then?
Putting stabilisers on a bike sounds like it makes sense. In essence, it supports your child whilst they learn to pedal. However, it creates a dependency on the stabilisers. This is something which has to be unlearned when taking the stabilisers off and going to two wheels. In our experience it is much harder for kids to unlearn something than it is for them to learn something new.
Good quality, lightweight and well designed children's pedal bikes don't start until a 14" wheel size. Typically, this size is suitable from 3.5 years onwards. With a balance bike, you can get going from as early as 12 months provided the child is walking well and tall enough.
You can get 12" wheel pedal bikes, but the only ones available are heavy and poorly designed; making them less fun to ride and, ultimately, a waste of time.
Stabilisers should be a last resort, used only if a child is too big for a balance bike or simply hasn't been able to develop balance on two wheels.
Come and see us at our lightweight kids' bike showroom and we will ensure you get the best advice for your particular needs. We will almost certainly have something in our carefully selected range to suit.
Tags: balance bikes,