Cyclesense Cycling Club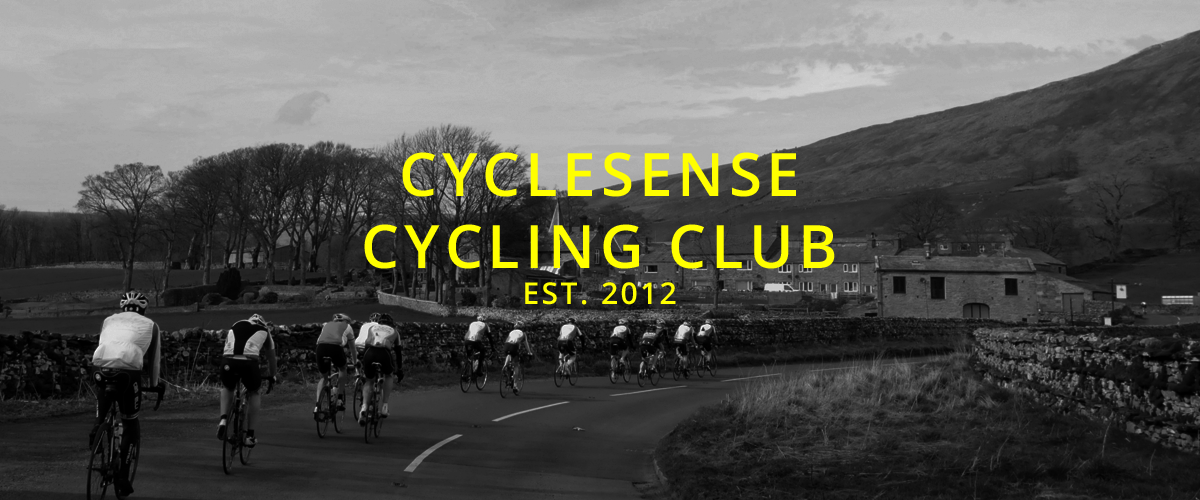 Established in 2012, the Cyclesense Cycling Club is a road cycling club based in Tadcaster, North Yorkshire. Tadcaster is an ideal base for the club with varied terrain available either side of the town, meaning we can go for flat or hilly rides.
The club organises weekly rides every Tuesday and Sunday throughout the year as well as taking part in the Cyclesense time-trial league and other local races. You don't have to be a racer to come out for a ride with us though; we offer a number of different groups for various abilities and inclinations.
Riding with a club is good fun and it's a great way to meet new people whilst improving your fitness.
Pretty much anyone can join us for a club ride. All you need to bring is a spare inner tube, some water/energy drink and some money in case we stop at a café on a Sunday ride. Helmets are a requirement at all times, whilst lights and mudguards are a necessity in the winter months.
For more details on how you can get involved with our club rides pop into either of our shops in Tadcaster for a chat. Alternatively, email info@cyclesense.co.uk
Rides
We have rides every Tuesday and Sunday, but the best place to keep up to date with the rides is via our Facebook page.
Tuesday evening
Unless stated otherwise on our Facebook page, these rides will always set off from 18:30 from the car park behind our shop in Tadcaster.
Throughout summer there are at least two groups:
Green group
A steady pace for those new to group riding. Circa 20-25 miles with a pace between 14-17mph. This group is lead by our very own Paul Stainthorpe. No one will be left behind on these rides.
Blue group
Our chaingang. A flat route of 30-40 miles at a pace of 20-22mph. Experience of group riding is necessary here as we ride through and off.
Winter
In the colder, wetter and darker months we have just one group. Lights and mudguards are necessary here. Distance will be around the 30 mile mark with a pace of 18-20mph.
Sunday morning
Unless stated otherwise on our Facebook rides, these rides will always set off from 08:00 from the car park behind our shop in Tadcaster.
We aim to be back for 11am but we can be out later than that. The pace depends on the terrain, but it will always be 17mph+.
Membership
Club membership is £15 a year (£1.25 per month). If you regularly take part in our weekly rides or want to race the TT league membership is necessary. Included in membership you get:
- Public liability insurance with an indemnity limit of £10,000,000. - Club kit available at a reduced rate. - 10% discount in the shop. - Significant British Cycling membership discount. - Access to events put on by the club (ie John's turbo dungeon, additional organised club rides). - The opportunity to ride with a welcoming, friendly club.
If you want to join/renew just pop into the shop and speak with Paul.